Microsoft has been working hard to reinvent the classroom, and now it's got a new device for students. The Surface Laptop SE will allow educators to empower their students with Windows 10 Pro OS, Intel 8th-generation processors up to i7 quad-core options, and even an optional discrete graphics card so that they can run any game without delay or lag.
Microsoft has launched a new affordable Surface Laptop SE to streamline education. The laptop is designed for students and teachers, with a starting price of $249. Read more in detail here: best surface pro.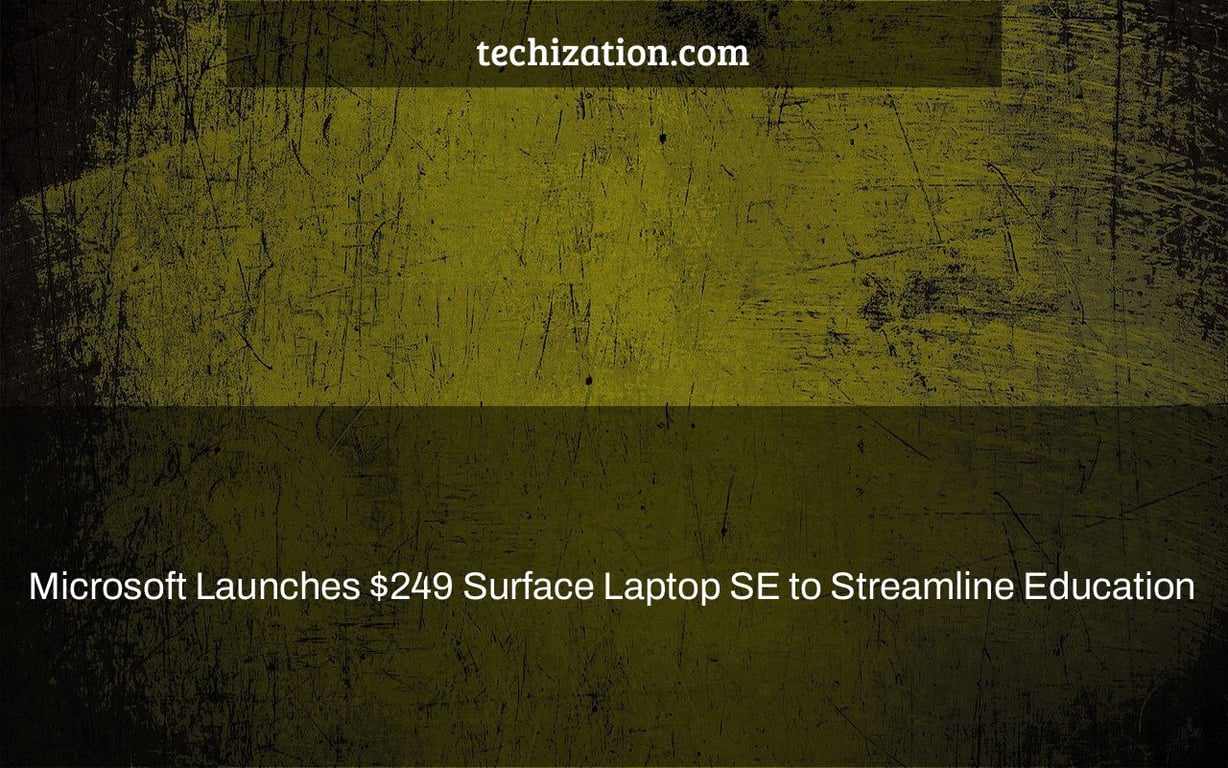 For the majority of students in the United States, Chromebooks have continuously been a front-runner. They are easily available, inexpensive, and, best of all, portable.
While Microsoft has been attempting to enter into the market with past releases, its current $249 Microsoft Surface Laptop SE has undoubtedly broken through boundaries, presenting as the genuine Chromebook opponent.
To promote and simplify education, the Surface Laptop SE will be marketed only to students and schools. It's built to work with the current version of Windows, Windows 11 SE, to provide even better speed and productivity.
Microsoft's new Student Edition Surface laptop is meant to compete with the considerably more common Chromebooks that students use all around the world.
The laptop has special Windows 11 SE capabilities, as well as free student subscription to Microsoft 365 for Education. This laptop will not only benefit kids, but it will also simplify work and administrative infrastructure in schools, assisting IT administrators in managing and regulating their activities.
The integrated and exclusive access to Windows 11 SE OS, which is developed for students with built-in online apps and functions to enhance their learning journey, is a distinctive feature of this laptop. They're made to assist pupils gain the abilities they'll need to develop and succeed in the future.
The device's integrated web-based Microsoft Edge applications are also supposed to improve students' learning experiences.
Google Classroom and a slew of Chrome web extensions are among them. In addition, the Windows 11 SE was created with accessibility in mind. This is to guarantee that every student has the same possibilities to develop and evolve into a better version of themselves.
Students can read and study from anywhere with the Surface Laptop SE's tiny and portable 11.6″ high quality display with automatic brightness adjustment function.
Combine that with the extended 16-hour battery life intended to get children through a whole school day.
Aside from the built-in Windows 11 SE operating system, the gadget is powered by an Intel Celeron CPU for unrivaled performance. The gadget is intended for pupils who are working to improve their technical abilities.
As a result, technologies such as zero-touch deployment, one-click device management, and cloud security have been incorporated to make the user experience much simpler.
This new Surface Laptop's thin and elegant design is intended to support students' hybrid learning experiences. The gadget also has a 720p HD camera, a digital microphone, and stereo audio speakers for improved speech quality during video calls.
Students will have access to a variety of I/O connections, including USB-C, USB-A, and even a headphone jack, when it comes to ports and connectivity.
Availability and Pricing
The gadget will be available in the United Kingdom, the United States, Canada, and Japan in early 2022.
The Surface Laptop SE with 4 GB of RAM and 64 GB of storage will cost $249.00. The model with 8GB of RAM and 128GB of storage will cost $329.00.
Watch This Video-
Related Tags
surface go 3
surface laptop 3 review
surface laptop go review